At Windermere, we have continued to rely on the expertise of Matthew Gardner, Windermere's Chief Economist. This week Matthew addressed the growing concern that housing market is heading towards a repeat of the 2008 meltdown.  He uses data to explains how we are in a very different place than when the housing bubble burst. Here is a chart he shared from Black Knight Financial comparing the housing market as we headed into this global health crisis versus the start of the Great Recession in 2007.  Matthew predicted the Great Recession, so I think he knows a thing or two!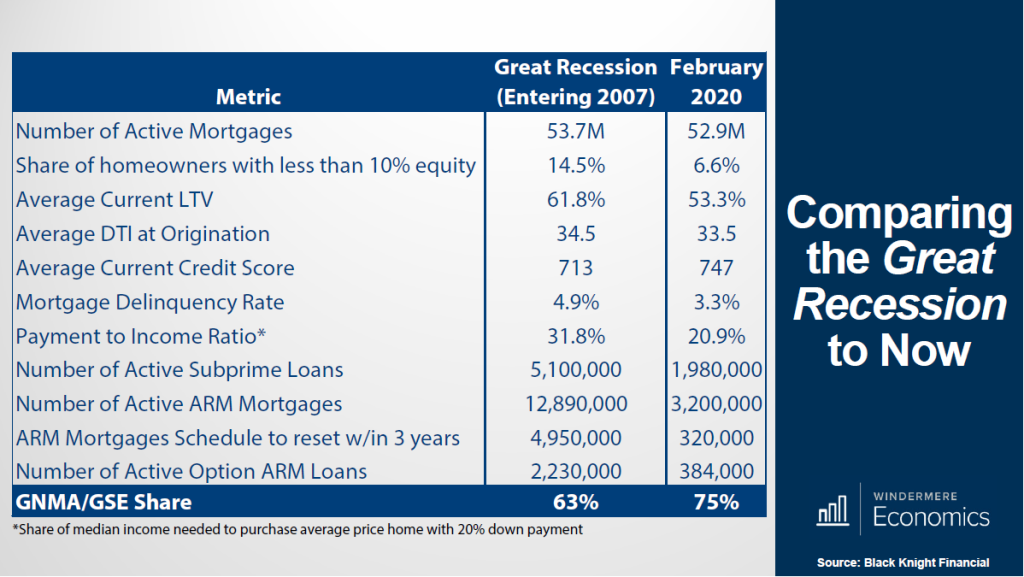 Bottom line, we are heading into this economic challenge with a much stronger foundation based on more stringent lending practices and higher equity levels. In fact, we have seen pending sales rise over the last three consecutive weeks, some even with multiple offers. Every neighborhood and every price-point has its own story.
As your trusted Real Estate advisor, I take great pride when it comes to your investment in the housing market and protecting the value of your home. Please reach out with any questions or concerns. It is my goal to help keep you informed and empower strong decisions.