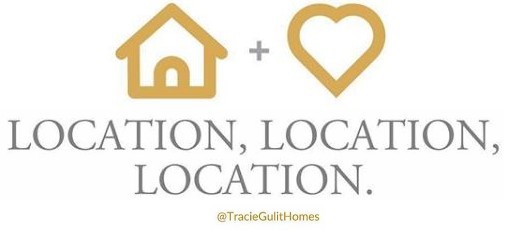 I'm sure you've heard this phrase once or twice, and may wonder what inspires us brokers to say the word three times. The word is repeated three times for emphasis, and it is the NUMBER ONE rule in real estate, though it is often the most overlooked. In a nutshell, location, location, location means if you were to compare two identical homes one is worth more in value due to location. .
The Epitome of Location, Location, Location: You can buy the RIGHT HOME in the WRONG LOCATION. You can change the structure, remodel it or alter the home's layout but, ordinarily, you cannot move it. It's attached to the land. The best locations are those in prime spots, but "prime" is subject to opinion by each buyer… what is important to each person is different, right?!
Here are a few factors that affect location to consider:
Top-rated school districts
Recreation and nature
Scenic views
Entertainment and shopping
Conforming areas (is the home in an area with other similar homes)
Public Transportation, Healthcare and Jobs
The home's orientation to its location on the block
What's most important to you when you consider location for your home? I'd love to hear!