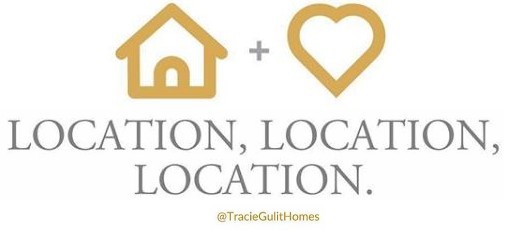 I'm sure you've heard this phrase once or twice, and may wonder what inspires us brokers to say the word three times. The word is repeated three times for emphasis, and it is the NUMBER ONE rule in real estate, though it is often the most overlooked. In a nutshell, location, location, location means if you were to compare two identical homes one is worth more in value due to location. .
The Epitome of Location, Location, Location: You can buy the RIGHT HOME in the WRONG LOCATION. You can change the structure, remodel it or alter the home's layout but, ordinarily, you cannot move it. It's attached to the land. The best locations are those in prime spots, but "prime" is subject to opinion by each buyer… what is important to each person is different, right?!
Here are a few factors that affect location to consider:
Top-rated school districts
Recreation and nature
Scenic views
Entertainment and shopping
Conforming areas (is the home in an area with other similar homes)
Public Transportation, Healthcare and Jobs
The home's orientation to its location on the block
What's most important to you when you consider location for your home? I'd love to hear!
Posted on August 15, 2018 at 9:43 pm
Tracie Gulit
|
Category:
Buying a Home
Source: www.blog.windermere.com
After succumbing to the "Great Recession" ten years ago, the stock market has made a comeback. So, does that mean you should forget about buying a new house and invest in stocks instead? The answer to that question, say experts, depends on your investing savvy, your financial discipline, your age, and your current financial situation.
The first question you need to ask yourself is, "Am I disciplined enough to invest in stocks?" According to two professors who recently studied 30 years of personal-finance performance, you need to be someone with exceptional financial discipline if you want to earn real money in the stock market. Or, you could simply buy a house.
When you buy real estate, the down payment and monthly mortgage payments force you to set aside a significant amount of your earnings on a regular basis. It's automatic. But if you can't summon the same discipline to invest that same amount of money in the stock market on an equally regular basis, then stocks are probably going to be a losing proposition, according to the professors' study.
"We find that if people don't invest all the money, actually about 90% of the time, you're better off buying real estate," says Professor Eli Beracha, co-author of the study.
Other issues that make stock investing risky
Investing guru James Altucher wrote a column in The Wall St. Journal titled, "8 Reasons You Stink at Trading Stocks." In it, he argues that most non-professionals don't have the investing savvy required to be successful in the stock market. Here are a few telling excerpts:
"Nine out of 10 people think they are above-average drivers. Nine out of 10 people think they are above-average investors. Both are mathematically impossible."
"Most people sell at the bottom and buy at the top—the opposite of what you want to do as an investor—because they let emotions get in the way of patience and strategy."
"It's really hard to own stocks. It's not just picking a stock and watching it go up 1,000%. It's buying it and sometimes watching it go down 80% before it ends up rising 20% above your purchase price. It's waiting. It's patience. Psychology is at least 80% of the game. And knowing when to sell? Even harder."
Age matters
When you're young, many financial advisors encourage investing in things like individual stocks. With a long career ahead, you have time to wait for any bad investments to turn around before you may really need the money. But once you're a little older, with a family, and starting to focus on your financial future, that's when advisers recommend you buy things like real estate—a conservative investment with a long history of stable, predictable earnings.
The type of loan you choose also makes a difference
If you want to both own a home and invest in stocks, consider a 30-year home loan, which will significantly reduce your monthly payments and leave you with extra money for playing the market. (Just remember the tradeoff: You'll end up paying thousands of dollars more in interest over the life of the loan.)
If you don't have a burning desire to play the stock market, choose a 15-year home loan. You'll pay less interest over the life of the loan, you'll build equity faster, and, obviously, you'll be mortgage-free 15 years sooner.
The tax advantages of owning real estate
As a homeowner, you're entitled to a bevy of tax benefits you don't get as a stock investor. You can deduct your mortgage interest and property taxes from your annual tax return. Plus, depending on your circumstances, you could also get a deduction or credit for any home-office expenses, moving expenses, capital gains, any "points" used to lower your interest rate, and more.
One caveat: investing in real estate takes time
No matter what some of those reality TV programs show, buying a home should not be viewed as a get-rich-quick scheme. But if you think you're ready to put down roots for as long as seven years, chances are very good that any home you purchase will appreciate significantly during that time (even if the economy runs into some bumps along the way).
The non-financial benefits
Of course, not all of the benefits of owning a home are financial. For most Americans, their home is a source of tremendous pride, comfort, security and freedom. Most of us also use our homes to showcase our personality, through paint colors, furnishings, landscaping, yard signs, holiday decorations and so much more.
Yes, the stock market is on an upswing currently (depending on the week), but if you want an investment with a long-term track record of consistent returns—plus tax breaks and a variety of personal perks—you may want to buy a home instead.
If you have questions about the buying or selling process, or are looking for an experienced agent in your area, connect with me  here.
source: www.blog.windermere.com
Posted in Inman News by Matthew Gardner, Chief Economist, Windermere Real Estate
This article originally appeared on Inman.com 
Housing markets all across the U.S. are suffering from serious shortages of homes for sale, and this isn't expected to change in the foreseeable future.
When I think about inventory levels and the fact that demand is clearly outstripping supply, it makes me question why homebuilders aren't stepping up to the plate to meet all this pent-up demand.
Interestingly enough, there are several obstacles holding builders back that I think are worthy of further discussion.
According to my calculations, since 2008, builders have started construction of new single-family homes at an average annual rate of about 594,000 units per year. For context, the average annual rate of new-home starts between 1963 and 2007 was over 1.1 million, so we have been behind the ball for some time now.
Although new-home starts have now risen to 835,000 units from the historic low of 353,000 units that we saw in 2009, we are still well below the level that meets demand given new household formations.
Since 2009, new housing supply has consistently fallen short of new housing demand. The shortfall was the largest in 2011 at 465,000 housing units, and cumulatively through 2015, the total shortfall was 2.2 million housing units.
Currently, I estimate that the amount of housing supply necessary to just keep pace with demand is probably around 1.1 million housing units a year; however, housing completions as of May were running at an annual rate of just 817,000 — far below what is needed.
So why is this? The simple answer is that it is very expensive to build a new home.
The expense of building a new home can be essentially broken down into three components: land, labor and materials.
Land
Let's start with land, which is expensive, and it is very expensive in markets where land availability is scarce (either because of unique topography or political limitations — or both).
This is further exacerbated in markets where the economy is growing rapidly and attracting more new residents.
Another hindrance is the cost of obtaining a building permit, which is remarkably high, thanks to government regulations, and can account for almost 25 percent of the final price of a new single-family home.
Labor
The second thing to consider is labor. As the housing market was entering the Great Recession, many construction workers were laid off and have not subsequently returned.
In fact, my calculations indicate there are currently over 200,000 job openings in the construction industry, and this lack of supply combined with high demand for labor, has led to rising labor costs.
Material costs
Finally, material costs. The cost of homebuilding materials have risen by almost 5 percent due to high demand and low supply. Everything from the copper used in wiring to the lumber used for framing, continues to escalate at fairly rapid rates.
All of this combined makes it very expensive to build homes — especially affordable homes.
In fact, the National Association of Homebuilders stated back in 2015 that it is difficult to build a home anywhere in America for less than $300,000. Then take into account that only 4 percent of all new homes sold in 2016 were priced below $150,000, and in the Western U.S., just 6 percent were priced below $200,000.
Conditions are particularly tight at the more affordable end of the market, clearly reflecting the fact that fewer entry-level homes are being built.
Between 2004 and 2016, completions of smaller single-family homes (under 1,800 square feet) fell from nearly 500,000 units to only 136,000. Similarly, the number of townhouses built in 2016 (98,000) was less than half the number started in 2005.
It is clear that we need more housing solutions to address the shortages out there, but it won't be easy.
From a builder's perspective, they cannot change material costs, nor can they force workers into the construction industry.
However, what they can do, and what needs to be done, is try and shift government policy to better address permit fees, hookup fees, impact fees and the like. If these costs could be lowered, I believe that many builders would have the ability to ramp-up activity in a fairly dramatic fashion.
Given how important increasing the supply of new homes is to the long-term health of the market, I hope that the efforts being undertaken at the national level by the NAHB, and the local level by various homebuilder associations, start to see positive results in the near future.
For the sake of our housing market, we need to make it easier for builders to do what they do best: build homes.