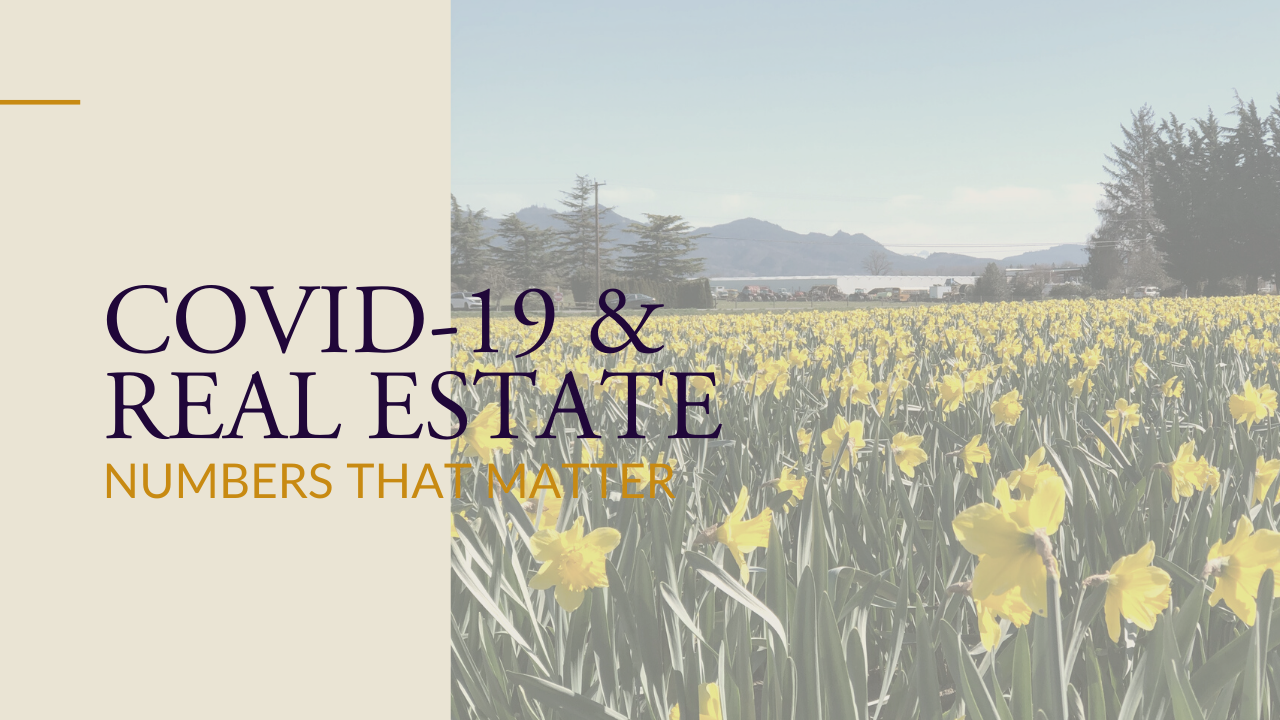 May 
the

 4th Be… Here Quickly!

Here we are again with another update on our Stay at Home Directive, which now has been extended until May 4th. It might seem like so far away, but the more we stay home (and the better we follow the rules), the sooner we will be able to resume our regular lifestyles!

I'm continuing with week 3 of looking at specific data from Bellingham, Ferndale and Lynden to observe the affects COVID-19 has on the current housing trends. You'll find the updated charts below and my comments regarding them. However, before we get into the nitty gritty, watch the video below for some good news!
BACK TO 
THE

 DATA

As we are in an ever-changing climate (it seems day-to-day), I want to reiterate that the BEST time to list a home for sale, I believe, will be 1 week after the Stay Home Directive is lifted. As Economist Matthew Gardner has stated in his Monday Update this week, "We are currently in a Health Crisis, NOT a Housing Crisis." Most things in our life right now, unless they were already in process or are essential, have been put on hold. When we are able to get back to "normal life" that will all start back up again. New listings will go active, and buyers will be ready as ever to find a new home!  As I projected last week, the numbers have dwindled slightly, but not significantly as you'll see below.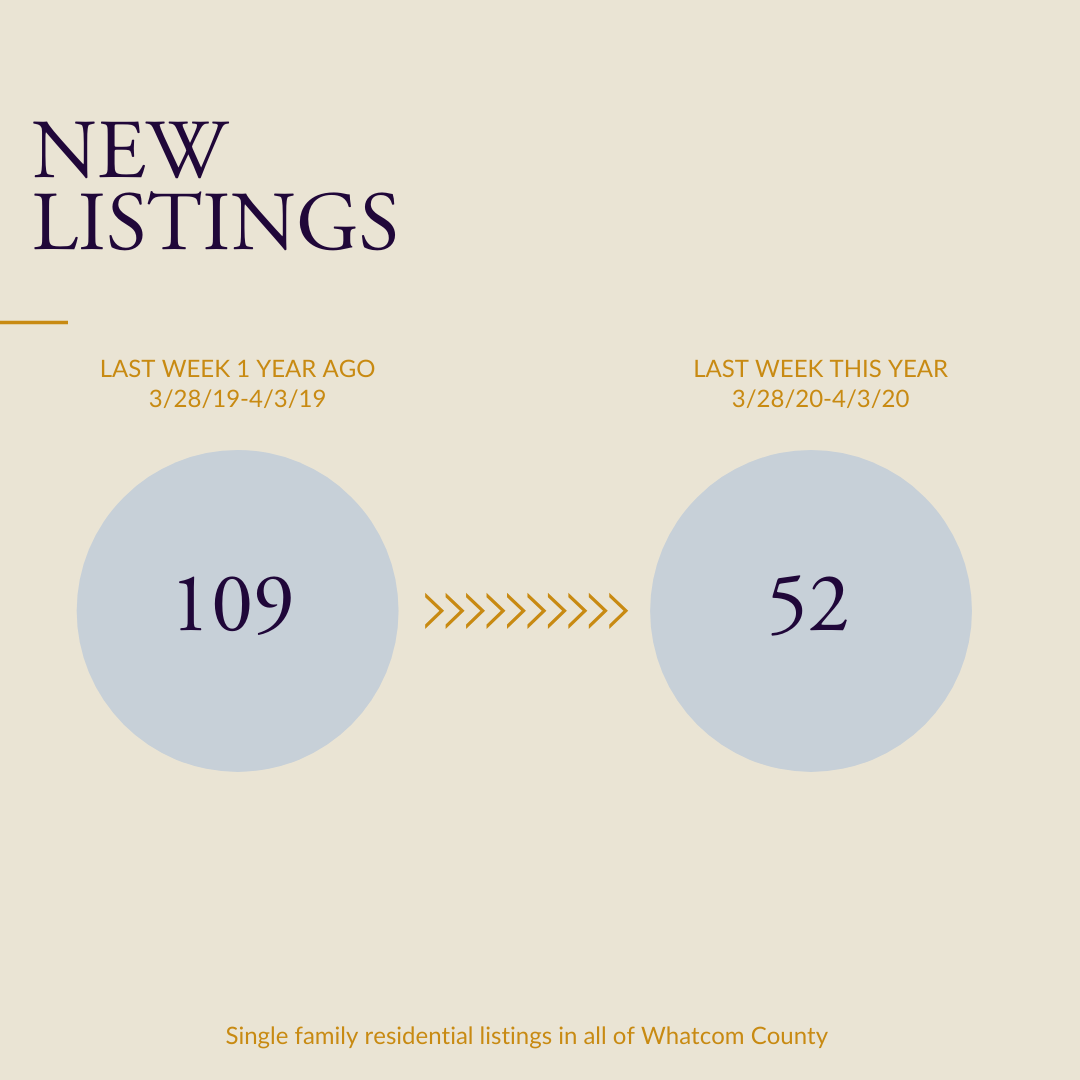 UNDER CONTRACT
Below is an accounting of all of 
the
 active listings on 
the
 market in our three major markets along with all of 
the
 sales that went under contract from 3/28/20 to 4/3/20 (pulled around Noon PST) and 
the
 percentage relationship between those numbers. Our Under Contract Sales have continued to fall, this week's pendings are half of what last week's were.  This is a direct connection to 
the
 Health Crisis and is no real surprise.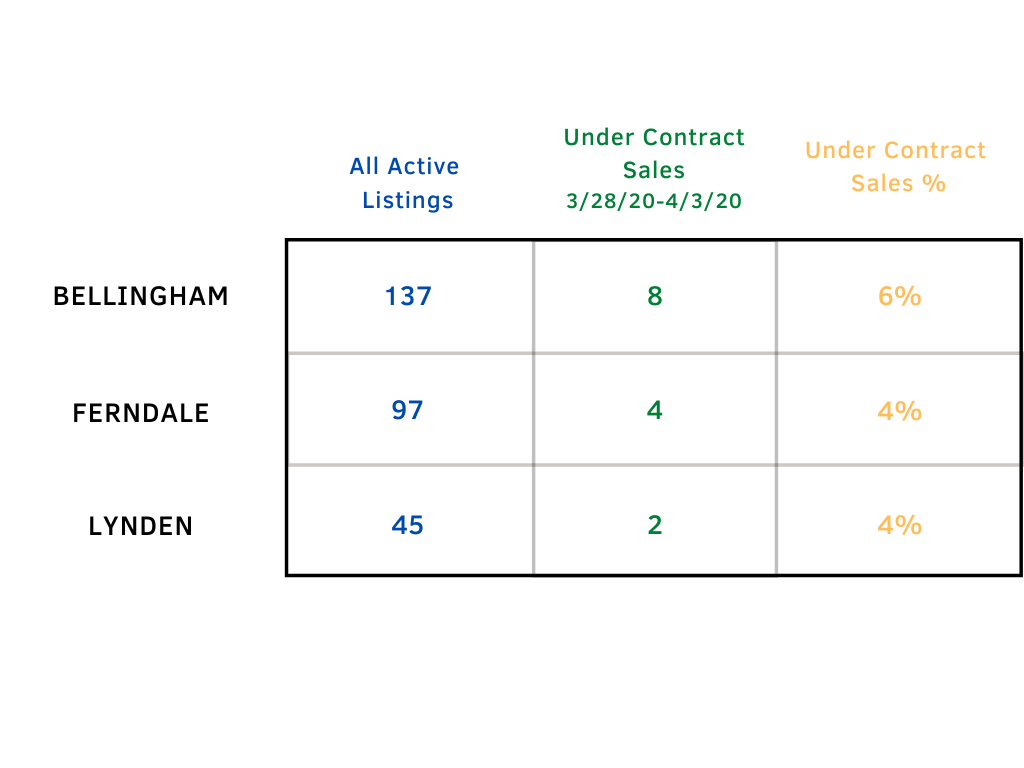 ADOM
The
 second chart represents 
the
 Average Days on Market (ADOM) for 
the
 homes that are currently active and that went under contract between 3/28/20 and 4/3/20. "Days on Market" is how long 
the
 home was active on 
the
 market before 
the
 seller accepted an offer. 
The
 difference in ADOM bounced back to numbers looking similar to two weeks ago which is that homes that are coming on 
the
 market, appropriately priced are selling quickly.  Homes that came on in 
the
 last week in Bellingham and Lynden accepted offers this same week- there are buyers out there!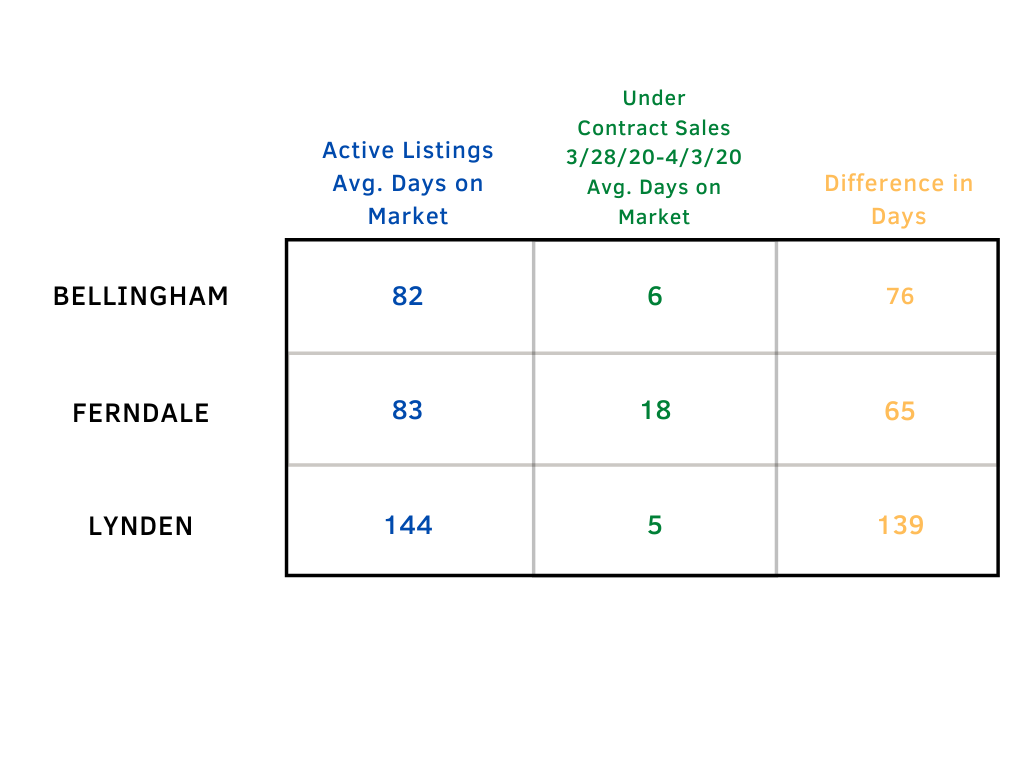 % PRICE DIFFERENCE
The
 last set of data below is 
the
 average prices of 
the
 active listings and 
the
 average prices of 
the
 homes that went under contract last week. What we are mostly paying attention to here is how 
the
 % difference is changing from week to week to see how COVID-19 might be affecting 
the
 offer price that homes receive. Most significant here is 
the
 Under contract pendings average price for BELLINGHAM- I can't remember 
the
 last time any average price in Bellingham was this low.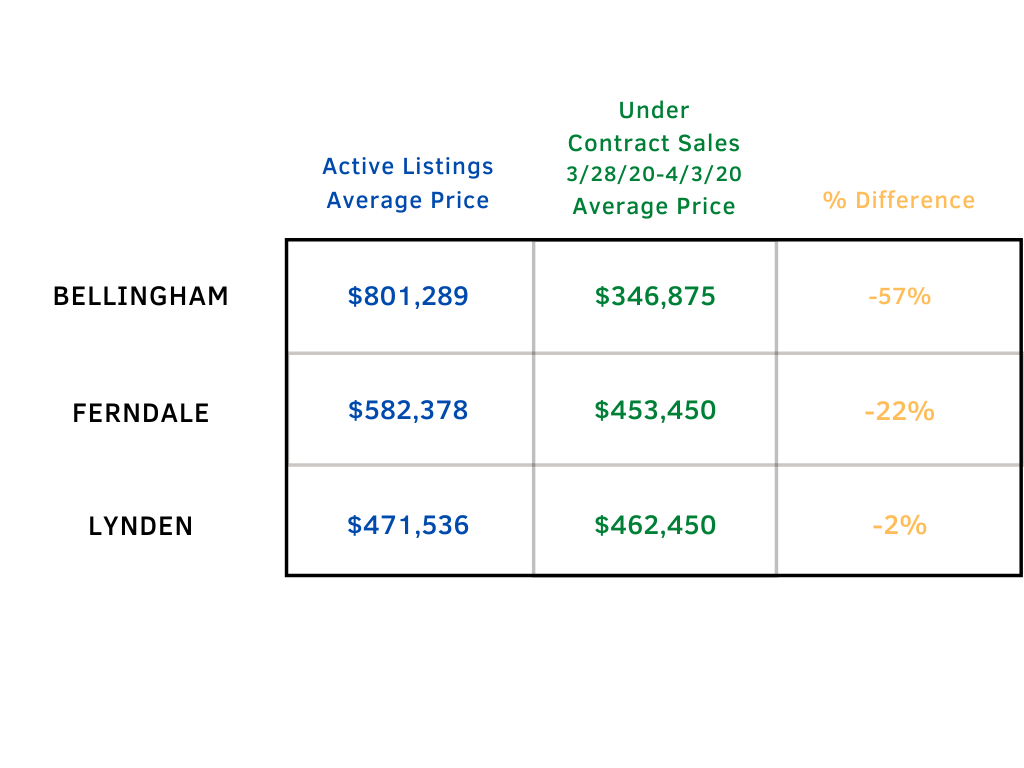 ---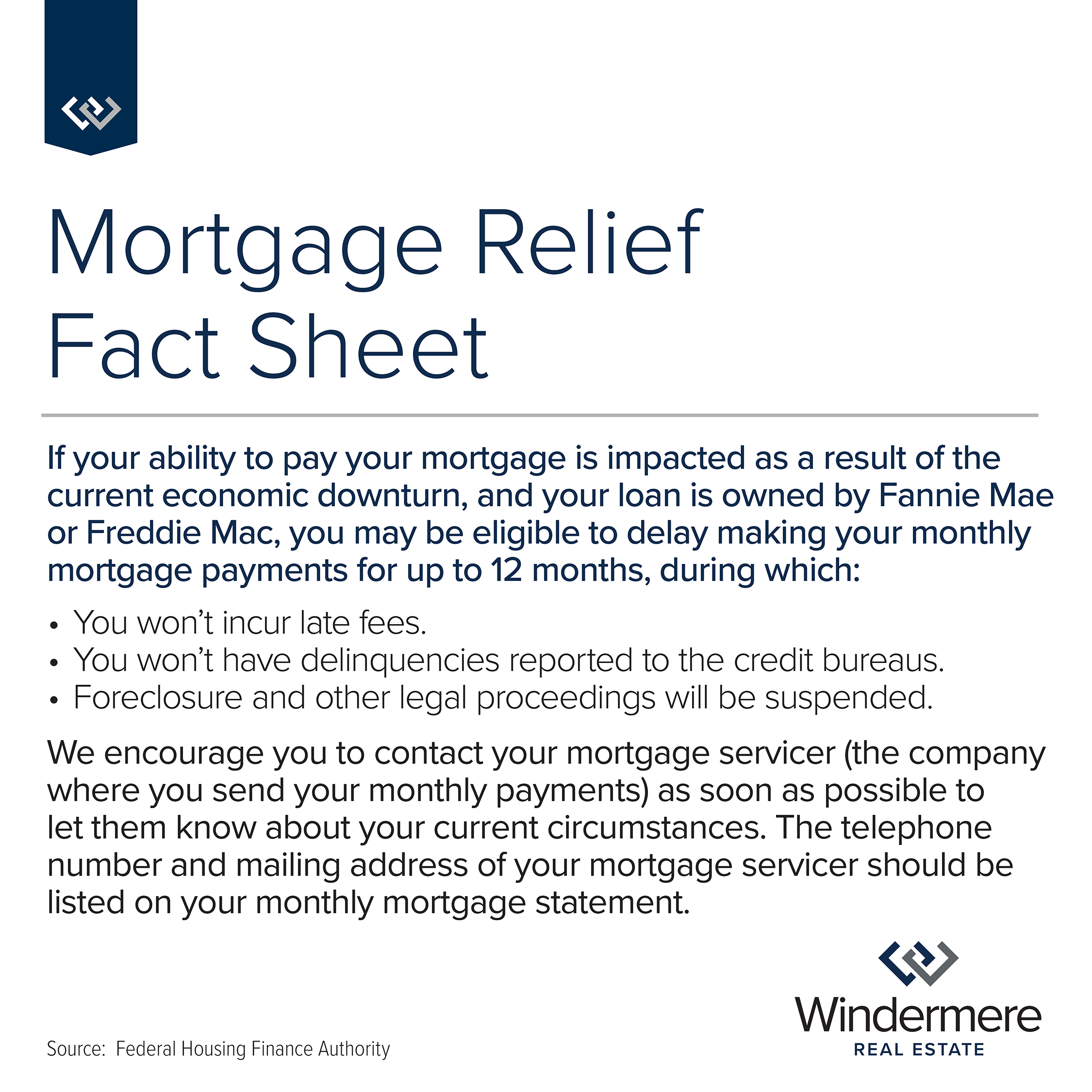 MORTGAGE RELIEF
A MAJOR aspect that is different from the recession we are heading into and the  2008 Great Recession is that some banks and mortgage investors (servicers) are working with homeowners to provide mortgage relief. With the shutdown of so many businesses and services, job losses (hopefully they are temporary) have been abundant.
If you or someone you know would benefit from setting up a mortgage forbearance program or loan modification in order to alleviate the pressure of monthly payments right now, click on this link and have them contact their mortgage servicer today. The available programs that are offered will vary from one loan servicer to another, and are primarily available for loans that are owned by Fannie Mae or Freddie Mac (click on the appropriate link to help research who owns your loan).
Make sure you consider the details and payback terms for your long-term financial health. Your ability to protect your largest asset (your home) while waiting this out will protect your equity! This is a milestone opportunity and will ensure a strong housing market moving forward.
---
SMALL BUSINESS HELP
We care about local small business and want to be able to help you thrive in any way we can! If you own a small business like I do, chances are this health crisis we are in has had an effect on your stress levels. Well, this information graciously provided by my tax advisor should help!
Recently, Congress passed the CARES Act (Coronavirus Aid, Relief and Economic Security). This is designed to assist small businesses steadily throughout the VOVID-19 crisis and provide the ability to keep their employees. There are two major parts to the act: The Small Business Administration Emergency Injury Disaster Loans, administered by the SBA, and the Paycheck Protection Program, administered by private banks. Down below, I have included an infographic about applying for a Paycheck Protection Program loan, which can be up to 2.5 times your average monthly payroll costs, with the possibility of the loan being forgiven.
Here's a helpful list of 10 FAQ's from the US Chamber of Commerce about the loans of the CARES act
1.       What loans are available to help small businesses during Coronavirus?
The Economic Injury Disaster Loan from the SBA.
The Payroll Protection Loan.
2.       How do I get these loans?
Apply for the Economic Injury Disaster Loan directly from the SBA here.
Payroll Protection Loans are government-backed but will come from private banks. You should inquire at your local bank about these loans.
3.       How much can I borrow?
The EIDL from the SBA can be up to $2 million working capital for up to a 30-year term at 3.75% (2.75% for non-profits). Not everyone will qualify for that amount.
The Payroll Protection Loans can be for 2.5 months of average payroll or $10 million, whichever is less [note: employee health care plan costs can be included – see the attachment].
4.       Do I need to repay these loans?
The EIDL from the SBA will be repaid. Payments can be deferred for one year after the origin of the loan.
All or some of the Payroll Protection Loan may be forgiven (converted into a grant). There are specific requirements about how you spend the loan and if you continue to employ your workers in order for it to be forgiven.
5.       What about the $10,000 emergency grant I've heard about?
The SBA is offering to advance businesses a $10,000 grant that does not need to be paid back. That grant can be paid quickly – in as little as three days.
You can apply for that $10,000 grant as part of the EIDL process. If you are awarded the $10,000 emergency grant, you will not have to pay the grant amount back. You will still have to repay the rest of your SBA EIDL.
6.       Can self-employed and freelancers apply?
Paycheck Protection Loans are available to 501(c)(3)s, self-employed, sole proprietors and independent contractors.
SBA EIDLs are available to small businesses and non-profits (including faith-based) with fewer than 500 employees, sole proprietors and independent contractors.
7.       Can I apply for both loans?
Yes. You can apply for and receive both loans.
8.       Do I need good credit to qualify for these loans?
The Payroll Protection Loan requires no collateral and no personal guarantee.
The EIDLs are given based on credit scores. No tax returns are required. You can borrow up to $200,000 without a personal guarantee.
9.       What if I've already fired or laid off my employees? Do I still qualify for a Payroll Protection Loan?
Your loan may be forgiven if you bring back employees and restore wages generally within 30 days and maintain them through June 30.
10.   My bank doesn't seem to know anything about the Payroll Protection Loan. Now what?
Banks are currently working out the details. If your bank hasn't heard about the loan yet, try a bank that is already an approved SBA lender [note: in the Bellingham area, these include Umpqua Bank, Wells Fargo, Chase, US Bank, KeyBank, and Bank of America]. They may be more familiar with the process.
For help in navigating the loan process and other aspects of this crisis, SCORE, a well-established small business mentoring program, is available to do remote mentoring. In addition, they will be conducting webinars and online workshops for dealing with the fallout from Coronavirus and the help available. You can learn more here.
Please contact me with your questions and concerns, I am committed to help keep you informed!
Best Wishes!