How we turned our Bellingham house into our home
Here's a little story about the time that I accidentally fell in love with accent walls! An accent wall (a.k.a. "feature wall") is a wall whose design differs from the design of the other walls in the room (thanks Wikipedia for that definition). An accent wall can be made with paint, fabric, wood… even straw (anyone else remember those horrible accent walls gone bad from Trading Spaces??). Chip and Joanna from Magnolia homes and the ever popular reality show Fixer Upper have made wood accent or ship-lap walls all the rage… and I'll admit, I love them too.
The Problem – Wall paper…so much wall paper
The first Accent Wall I ever did was not exactly planned. My husband and I had purchased this sweet little home in Bellingham, WA. It was in need of some TLC, but we were confident in our DIY abilities. As a real estate agent in Bellingham, I've seen my share of DIY gone wrong. I was sure that we could make the seemingly small improvements to make this house our home. Step one was to remove the horrific wall paper from the master bedroom (see image, then shudder).
Have you ever removed wall paper? I had visions of just starting in the upper left hand corner and ripping off long, sweeping pieces of paper. It did not go as planned. After spending a whole day with my sister, covered in sweat, wall paper glue, steam and vinegar I GAVE UP on ever removing this wallpaper from the wall. We had gotten from the ceiling to about half way down the wall removed on the wall across from this one.
Horrible, RIGHT?! This was the master bedroom! The room that is supposed to provide me tranquility and a sense of relaxation. I could not look out past the wall paper to even try and enjoy some of the lovely Bellingham view that room had. I was disheartened; this amazing potential home we bought, was COVERED in 90's wall paper.

The Solution- Accent Wall #1
Exhausted, that night I took to Pinterest (and a lovely bottle of red wine from a local Bellingham wine shop) and started scheming. On 3 walls, I decided to do a white vertical ship lap look up to a chair rail height (right where we had given up taking off wall paper any further down the wall). And on the main wall behind the bed- We did this:
TADA! Cheap, rough, cedar fence boards. Not just purchased and slapped on- but "cured." It wasn't a super fast process; wood you buy from a discount lumber store like Home Depot or Lowes is still full of TONS of moisture. Moisture makes wood swell… so it MUST be dried for two weeks inside the house or you will end up with gaps between your boards after it dries out on the wall. Next, we "3 step aged" the boards (I made that term up, but I will write another post about the process soon) and THEN hung the aged wood on the wall. We LOVED it and I was hooked. Best part- it cost under $200 to do this large wall! We immediately had the rustic, outdoorsy feel that fit with out Bellingham surroundings (if you've never been to Bellingham, check out this footage. You'll see why we love this area. And if you love it too, call me, I'll help you find a home in Bellingham).
Accent Wall #2 – The addiction grows!
The next accent wall we did was in the nursery of my son's room. This time we used tongue and groove pine boards. Stained them different colors and topped them with a shelf.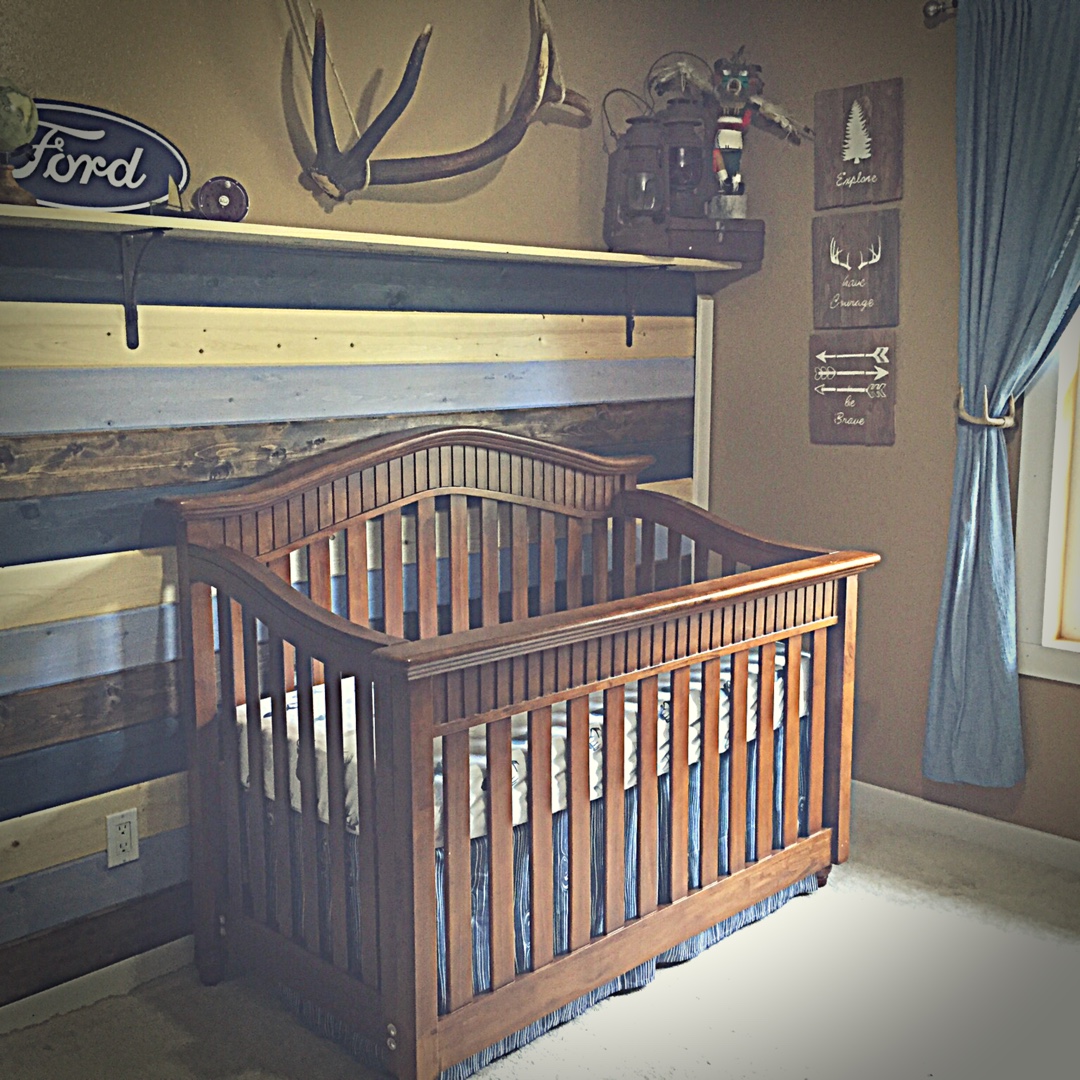 We've now sold that lovely home we completely transformed, and I do miss it, A LOT.
Our new project is to turn a "builder grade" house into a HOME- challenge accepted. I believe another Accent Wall is in my near future! Like I said above, stay tuned for a step-by-step tutorial on how to "age" wood (give it that awesome vintage barn-wood look). AND, if I'm lucky there will be another blog in the near future about my first accent wall at our new home.
Inspired?
From the Windermere Blog below you'll start by learning more about what an Accent Wall is. You'll also find tips on how to choose a wall, and other considerations to make when you are ready to take one on for yourself!
______________________________________________________________________________
(Source: www.Windermere.com/blog)
An accent wall is an emphasized wall in a room that has been designed to attract attention from adjacent walls. The simplest (and cheapest) option to go about an accent wall is by means of paint, though some may opt for wallpaper or tile. Homes with accent walls add a surprise element to a room and define an area of space that deserves attention.
Choosing the right wall
Experts say that the first wall you see upon entering a room is typically the accent wall. In many cases, the wall will have a fireplace or a built-in bookshelf, or something that suggests it is the focal point of the room. In this case, you want to accent that wall by emphasizing the central point with a background color.
Choosing the right color
Color accent walls can add depth and dimension to a room, and make a room seem bigger, warmer, or brighter. If a room is large, consider using warm colors to make the room appear more welcoming, or if the space is smaller, a lighter color can make a room look more spacious. You can visually enlarge or shrink a room by choosing the right color for your room.
Light reflections
Remember to think about how lighting affects the color of a wall. The color you choose may change depending on light sources that reflect on walls. For example, incandescent lights will have a different influence in comparison to natural lighting against walls. Different light sources can affect color choices, so don't forget to experiment with lighting against colored walls.
Tinting the ceiling
Typically, wonder-walls function independently of the ceiling, as they usually remain white. However, by adding a few drops of the wall color paint to a can of ceiling paint, you are able to slightly tint a ceiling. This subtle color scheme can make for a perfect ceiling finish to compliment an accent wall.
How to do it yourself
Painting an accent wall is an easy home improvement or do-it-yourself project. All that is needed is a short list of low-cost products, including:
The directions are simple: tape off the desired wall, spread tarp across the floor, fill any holes or cracks on the wall, sand and smooth out the surface, then paint the accent wall using zigzag strokes.
Painting an accent wall is a great DIY project for anyone to tackle over a weekend or even a few hours. What is your take on the one-wall wonder? Is an accent wall an overstatement, an understatement, or a room well-balanced?